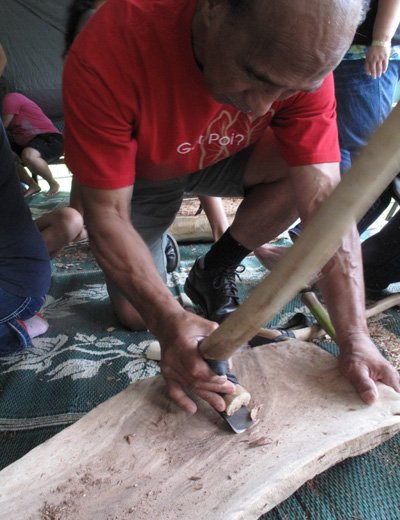 Earl Kawaʻa
Hawaiian Resource Specialist
Kamehameha Schools
Earl Kawa'a is one of five children raised on a taro farm in Halawa Valley, Molokaʻi. With a Master's in Social Work, he has worked at Queen Liliʻuokalani Children's Center, the Department of Human Services, Waimanalo Health Cernter, and is currently a Hawaiian Resource Specialist at Kamehameha Schools. Kawa'a, who is called Uncle Earl or kumu by many of his more than 5,000 students, is one of only 28 living mānaleo or native speakers left in Hawaiʻi.
For nearly a decade, Kawa'a has carried on the Hawaiian tradition of making handcarved poi boards and stone poi pounders. He grew up on Moloka'i during a time when almost every family he knew had a poi board and pounder. In 2006, a co-worker asked him to go back to Moloka'i to teach poi pounding. He was traumatized by what he called the end of Hawaiian cultural practice, as all he could find was one board and two stones. It had to be revived.
With a degree is in counseling and social work, he is schooled in both worlds. He is able able to walk on both sides of the line comfortably, but his baseline is culture. Family strengthening and leadership are a focus of his efforts.
"Whatever concept I talk about, there is a driving principle. It's not about what I think, it's what I know and what's handed down to me," Kawa'a says. "My opinions don't count. It's ancestral knowledge that counts, and I'm the keeper of that knowledge and the teacher of that knowledge."