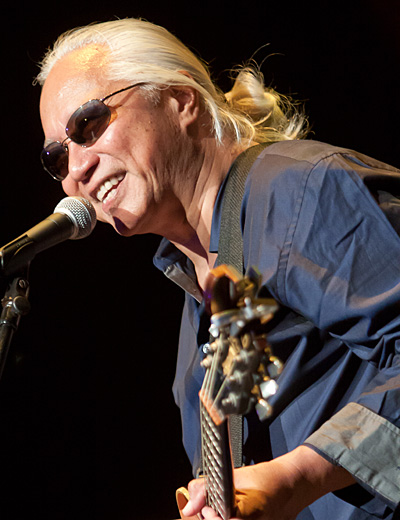 Brother Noland has deeply influenced contemporary Hawaiian music and is widely considered as the Father of Jawaiian Music. Fluid in both slack key and standard guitar tunings, Brother Noland goes wherever the music carries him. He is popular for his unique interpretations (or "Nolandization") of songs, yet remains respectful of traditional Hawaiian music and culture.
Born and raised in Kalihi-Palama on the island of O'ahu, Brother Noland is most famous for his original song "Coconut Girl," which birthed the Jawaiian contemporary style (fusion of Hawaiian & Reggae) music. He has won numerous Na Hoku Hanohano Awards, including Best Reggae Album, and his music is featured in several movies, including "Pineapple Express" and "Snakes in the Plane." He is regularly featured in slack key guitar festivals around the islands.
Brother Noland is an impactful player in Hawaiʻi's music scene and one of our most respected artists. He was honored in 2014 by the state with a Lifetime Achievement in Music award. But despite all the accolades, Brother Noland has never forgotten his roots and the community. Through his philanthropy, he helps at-risk youth define their choices and make a quality connection to the community through his Ho'ea Initiative, dedicated to teaching children about how to live off the ʻaina (land) and the ocean. As a steward of the land, Noland has a deep connection to Hawaiʻi and even cares for acreage on the island of Molokaʻi while preserving Hawaiian customs, indigenous plants and animal species. His music and community spirit always carries a message of positive reflection, while rooted in the reality we face today.
In 2013, he authored the "Hawaiian Survival Handbook," where he shares the outdoor skills he has developed over a lifetime spent in Hawaiʻi's forests and waters. An author, singer, artist, poet, philanthropist, mentor, musician and family man, Brother Noland continually inspires and infuses creativity and innovation to pave new paths of music and humanity around the world.