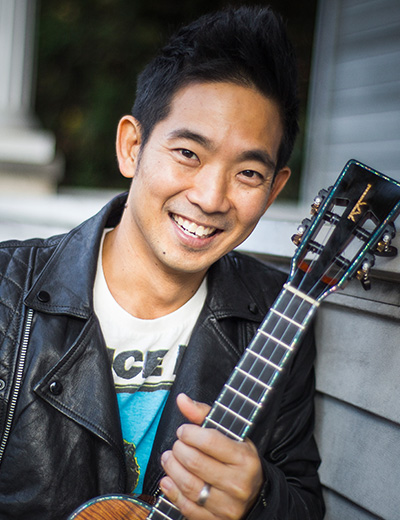 Jake Shimabukuro
ʻUkulele Virtuoso & Composer
Almost everyone in Hawaiʻi has strummed an ʻukulele at one time or another. But at the age of 14, Jake Shimabukuro realized that he was doing something a little different with the four-stringed instrument — OK, a lot different.
Shimabukuro's wholly unique approach to the ʻukulele started early. As a youngster growing up in Honolulu, Shimabukuro started playing the instrument at the age of four, learning the basics from his mother, Carol, and then developing his craft further by studying the likes of musical masters such as Eddie Kamae, Ohta-San and Peter Moon. As he matured, Shimabukuro also found inspiration from guitar players, drummers, pianists and singers. Even athletes helped fuel the intensity of his artistic fire.
In 2005, Shimabukuro's touring career really came to life with a video on YouTube. "I didn't even know what YouTube was at the time, so I was totally surprised when people started telling me they'd seen a video of me playing 'While My Guitar Gently Weeps,'" he says. "Before I got a chance to check it out myself, the video had gone viral and a lot of music industry folks seemed to know about it. It was crazy!" Shimabukuro's deeply beautiful and original take on George Harrison's love ballad, one which captured colors and moods never associated with the ʻukulele before, opened the floodgates — now legions of new music lovers had to hear this instrumental marvel — and the 2006 release of Gently Weeps (produced by Mac McAnally), which mixed his own originals with equally adventurous versions of "Ave Maria" and "The Star-Spangled Banner" was an unqualified success.
Shimabukuro's records have topped the Billboard World Music Charts on numerous occasions, and as a live performer he has become one of the hottest tickets around. He's played with world-renowned orchestras and at prestigious venues such as the Hollywood Bowl, Lincoln Center and the Sydney Opera House, and has dazzled audiences at music festivals including Bonnaroo, SXSW, the Playboy Jazz Festival and Fuji Rock Festival. He even performed for that rarest of audiences: Her Majesty Queen Elizabeth II. Not too shabby for a humble young man from Hawaiʻi and his trusty ʻukulele.
Even with the constant demands on his time — Shimabukuro tours roughly half the year and makes frequent appearances on media outlets such as The Today Show, Good Morning America, Jimmy Kimmel Live!, Late Night with Conan O'Brien, A Prairie Home Companion and NPR's Morning Edition — Shimabukuro's album output hasn't slowed. In 2016, he recorded the all-original Nashville Sessions at Music City's famed Ronnie's Place studio with producer R.S. Field (Steve Earle, Webb Wilder) and the ace rhythm section of bassist Nolan Verner and drummer Evan Hutchings. And now he's returned to the same city and studio — and with the same gang, too (augmented by guitarist Dave Preston) — for his newest record, The Greatest Day, which will be released on August 31, 2018.
Along with his tremendous professional achievements, Shimabukuro's personal life is filled with riches: He's a loving husband and proud father of two boys. While balancing career with family, he also remains firmly rooted in his commitment to community, frequently performing at schools in Hawaiʻi and overseas, urging youngsters to find their passion and live drug-free.